Give your books the chance to become Loan Stars
CataList is an online digital catalogue service that is ripe with opportunity for publishers. Did you know that you can offer advanced copies of your books to bloggers, librarians, and really anyone with a CataList account? Well, you can! And where there's an ARC, sample, or interior image, there's a chance that forthcoming book could become a Loan Stars pick.
ARCs are essential to the Loan Stars process. We've asked library staff to vote on forthcoming books they love and believe in. Making your titles available well ahead of publication date allows library staff a basis for their votes. We recommend making your ARCs or interior images available five months prior to pub date. But how do you do this? There are two ways:
1. Direct requests in CataList: Learn how to enable reading copy requests through CataList.
If you don't intend to produce ARCs for certain titles, you can give library staff a sneak peek at your upcoming books by supplying either samples/excerpts or interior images (e.g., layouts of your picture books). Learn more about supplying auxiliary files to CataList.

What do library staff see in CataList?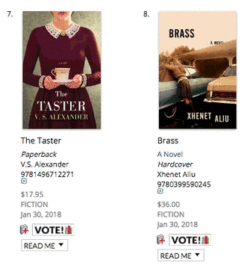 Eligible titles will display the VOTE button, and titles that have ARCs available for request will display an additional READ ME button.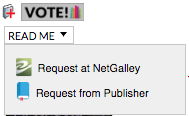 Clicking the READ ME button will open a dropdown, allowing library staff to 'Request at NetGalley' or 'Request from Publisher' if both options are available for a title. If ARCs are not made available for request, the READ ME button will not display.
Remember, these buttons do not display in CataList for users with publisher accounts, as only library accounts can request and vote for Loan Stars.
How can my books be considered for Loan Stars?
Endorse your books
Build a custom catalogue in CataList for titles you wish to be considered for Loan Stars. You can then direct potential voters to this catalogue (making all those vote buttons easy to find in one place).
Make your Loan Stars-eligible titles a feature in your marketing materials. Let your readers know this one is up for the award. If your readership does not include many library staff, let potential patrons know that if they'd like to see this book in their library to say something.
Get in touch with library staff. Dedicate some of your time, effort, and marketing to library users. Need materials? Loan Stars has lots of resources (below) that can easily fit into your campaigns.
Let us know. We're standing by to support your efforts. Have a title you want library staff to see? Send us an email and we'll include it in our own outreach.
My book(s) made the list! What do I do now?
Let people know. Tweet, post, sky-write. We announce the lists before the books are published, which gives you plenty of bragging time.
Mark your titles as Loan Stars picks. We have badges, digital assets, and fun marketing materials that you can use as your very own.
Resources
You can find downloadable posters for each month's list(s) in the Archive. Feel free to download and/or print these other pieces of Loan Stars collateral to distribute as you see fit. Want something not listed here? Let us know.
Website material
Print material
Download the Loan Stars bookmark ( PDF )
Join the Loan Stars community
Sign up for the mailing list for top 10 lists, new eligible titles, personal recommendations from individual librarians, exclusive contests, and more.
Follow Loan Stars on Twitter, Tumblr, Goodreads, Instagram, Pinterest or Facebook and make sure to use the hashtag #loanstars.
Read up on the latest Loan Stars happenings, new contests, tips 'n' tricks and more on the BookNet Canada Blog.
If you have any questions, concerns, or general thoughts on library life, you can send us a message. We will get back to you as soon as possible.